If you're looking for new chick lit authors, Mina V. Esguerra bundled up 3 #romanceclass novellas. All of them have releases soon, and this is a good time as any to tide the wait and know about them. The bundle is currently at $.99 for 3 novellas, and that's a really good offer. Hurry since it's only available for a limited time, and the bundle will be gone. And for more good news, another limited #romanceclass bundle will be released later this month!
Update: 6 Aug
The bundle is now at $1.99. Still a steal!
Details on the stories after the cut.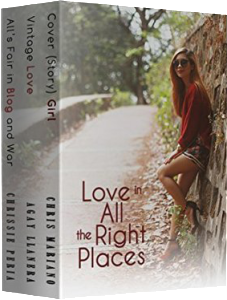 COVER (STORY) GIRL by CHRIS MARIANO
1) She has amnesia.
2) She's on the run from her father's creditors.
3) She's enjoying her last days on earth.

Ever since Jang Min Hee walked into Gio's small museum, she's given him one excuse after another about why she's vacationing at scenic Boracay Island. Rarely has Gio's neat and organized world been shaken like this. Soon he finds himself scrambling over rocks, hiding in dressing rooms, and dragging her out of bars. But how can Gio tell what's true from what isn't? Their worlds are getting unraveled — one story at a time.
VINTAGE LOVE by AGAY LLANERA
26-year-old Crissy Lopez's life is in dire need of a makeover. Her wardrobe revolves around ratty shirts and beat-up sneaks; her grueling schedule as a TV Executive leaves no room for a social life; and worst of all, she's still hung up on the Evil Ex who left her five years ago.

When her fashionable grand-aunt passes away and leaves behind a roomful of vintage stuff, the Shy Stylista inside Crissy gradually resurfaces. Soon, she feels like she's making progress — with a budding lovelife to boot! But the grim ghost of her past catches up with her, threatening to push her back into depression. To finally move on, Crissy learns that walking away is not enough. This time, she needs to take a leap of faith.
ALL'S FAIR IN BLOG AND WAR by CHRISSIE PERIA
Five Cuevas @5travels

Three guesses to where I'm going next. Starts with an M. Ends with a U. Has a lechon named after it. #travel

Travel blogger Five thinks she has hit the jackpot when the Macau Tourism Board invites her over for an all-expense-paid blogger tour in exchange for blogging about Macau. But while she happily signs up for the trip, she didn't sign up to be travel buddies with the infuriating Jesse. Will her dream vacation turn into a nightmare junket? Or will falling in love be on the itinerary?
Disclosure: I was part of #romanceclass.