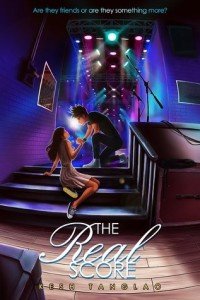 Caitlin's friendship with Marcus, the de facto frontman of the world's biggest boy band Gezellig, has long been an object of scrutiny by almost everyone–their friends and families, the media, and his fans–ever since they "went public" a couple of years back. Who wouldn't be interested? She was a nobody, catapulted into the limelight of his fame when he struck an unusual friendship with her.

To both Caitlin and Marcus, what they have is a "perfect little thing." But then something comes along and threatens it.

In a no-holds-barred interview, will they finally be forced to settle the score?
The Review
I will show my age for saying that I grew up with boybands. I may have not been an über fangirl, but I loved singing along to their catchy tunes, swooning over the cute members. And believe me, there was a boom of boybands during the mid-nineties. ((Ahhh. Good times.)) So reading this story from Kesh, was more of a throwback for me than thinking of the Gezellig band in One Direction terms.
I was also apprehensive on reading about this at first, because I'm not really into boybands anymore. Not that I grew out of them (heck, I still sing the songs I know). But more of, I just wasn't into it as I used to. ((I am really impressed by people who can sustain their fandom. Really. Kudos.)) But boy, am I glad I read it.
The Real Score starts out familiar enough. Girl meets cute boy who turns out to be famous via an extraordinary encounter. They talk, they become friends. The difference is, they don't fall in love. Well at least, not too soon. They form a strong friendship first, a perfect little thing, before something happens and they discover there might be more to all of these.
I think that's where this story shines. It doesn't immediately delve into the romance, even though you must admit the sexual tension is there. And their meet up, even if still not so probable, was realistic. And the rest of the characters, even if they can be a lot, are there to really support characters and bring the whole thing to life.
That, and the feelings that this story coaxed out of me. All the feels. ((I apologize for my Tumblr-speak again. You should be used to this by now.)) Of course there will be complications with romance that started out from friendship. When you get hurt, can you ever go back?
One of the perks of joining a writing workshop is having access to my classmates' works in progress. And I got to read The Real Score's progress while Tanglao still had it on Figment. And I kept refreshing the page if she had anymore, just so I could find out if something happens.
The Real Score is romantic, engrossing, and enjoyable. Definitely a must read.
Rating: [rating=8] 8/10 stars [?]
The Playlist
When Tanglao released the novella, she also shared the companion playlist for reading the book. I'm not sure which of these is the final one, but all the mixes are good.
The Excerpt
"Look, we have to talk," Marcus said, his voice serious.

I never liked conversations that start with those words. He looked tired and lacked sleep, but he still looked handsome. I missed him. It was just two days and I missed him more than anything in the world.

Marcus stood at the edge of the bed, closing my suitcase. He turned to me and I just took a deep breath, knowing that I couldn't escape it any further. I sank into the bed, the suitcase between us.

Marcus opened his mouth before speaking, and I knew he was searching for the right words to say. After three deep breaths, he finally spoke.

"She's not you, Caitlin."

"Obviously."

"But she's the next best thing."

I waited for him to continue, because I didn't want to ask questions I didn't want to know the answers to.

"You know how I was looking for that someone, right? The first time we met, I told you that."

"Someone that anchors you."

Marcus nodded. "And I found you. The girl who figures me out. The girl who likes me—loves me—behind all the façade and the fame. And it's perfect. I couldn't ask for anything more."

I faced him, surprised at how calm my voice sounded when I spoke. "Then why is she around?"

"Caitlin…"

"Why?"

Marcus turned to look at me. He took the suitcase between us and placed it gently on the floor, and then he slid towards me. He took both of my hands in his. "Because I can't have you," he explained.

"You're my best friend. I don't want to ruin this perfect little thing that we have. I don't want to hurt you—"

"Oh Marcus," I cut in, laughing bitterly. "You are doing a miserable job at that."
---
Goodreads link: https://www.goodreads.com/book/show/18398844-the-real-score
Purchase links: Amazon | B&N | Kobo | Smashwords
About Kesh Tanglao
Kesh Tanglao is a full-time market researcher. When she's not crunching numbers, she spends most of her free time watching TV shows, listening to music, and reading. Also a self-proclaimed fangirl, she likes cheering for her favorite sports teams and supporting her favorite artists.
Blog: http://sparksfire.wordpress.com/
Twitter: http://twitter.com/sparksfire_
Facebook: https://www.facebook.com/KeshTanglao
Wattpad: http://www.wattpad.com/user/sparksfire
The Giveaway
Kesh is giving away a paperback of THE REAL SCORE, a loot bag full of goodies and an ebook of (UN)BREAKABLE to one winner from the Philippines. For all international peeps, there will be 5 winners of eBooks of THE REAL SCORE and (UN)BREAKABLE.
a Rafflecopter giveaway

Disclosure: I also took #romanceclass.