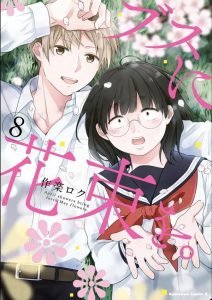 This series is so fluffy and cute, like ugh.
It's also called A Bouquet for an Ugly Girl in English, but that is actually subversive! (And also valid, as it does tackle what can be considered cute or ugly)
The important thing about this series, and my favorite is the communication between the leads. Yes, they tend to have overactive brains that reflect inward of what the other may feel. But man, do they not let it go way past more misunderstandings.
I've only heard about this series last year from an anime announcement.
I've shared with my sister, asking if she's heard of the series. She said no, but she did start looking for it. My journey took a little bit longer, as I only started (and finished!) what's available this past Thursday.
I just love it. And them. And the other characters, yes. But mainly, the two leads.
Just sucks I can't add this against my Goodreads stats but I am definitely already adding +8 books (tankobons) to it in my head.