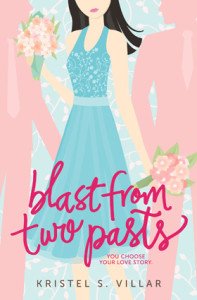 Fate's been playing tricks on Cara Nicolas lately. She agrees to go on a blind date with her best friend's fiancé's cousin, only to discover that the guy is her first love from high school, Lucas Lobregat. Now that would have been a charming story, except that the date turns out to be one of the worst ever. And they can't even pretend it never happened, because they're both suddenly part of the wedding preparations.

Just as she is starting to get to know more about the boy she used to love, Oliver Sta. Maria, an old flame who owes her some closure, surprisingly shows up. With two pasts resurfacing, which will Cara choose to rekindle? Or can she have the chance to choose at all?
I interrupt the weekly steamy reads book tour for a review of something much sweeter and full of kilig feels.
Last year, I joined Mina V. Esguerra's #romanceclass, where you learn the things you need to know in starting—and finishing—a 30,000 word novella. I wasn't able to finish mine, but my classmates did, and it's about time I help and put the word out (even if it's half a year late). And I'm starting with Kristel S. Villar's Blast From Two Pasts.
Everyone who went through high school had a crush right? It's part of puberty, hormones and all. So what if you meet your crush in your adult life, and not just cute, but actually hotter than you remember? What if also, he was more of a douche than you remember?
That's Blast From Two Pasts, but so much more. Cara is relatable, and Lucas is darn crushable. Even more when he grew up as the hot man she meets. From one seemingly bad circumstance to another, though may seem comical, it was still realistic. And it was a nice way to know each of their characters more, and make us fall in love ((Spoiler: and for the two leads, probably all over again. Hee.))
This is a very sweet and satisfying story, and I love what Villar did with the ending for even more sweetness. I can't recommend this enough. I can't wait for the print copy of this, because look at that cover! (Done by my talented friend, Cla Ines)
Now go! Get it! Tell me what you think about it.
Disclosure: I also took #romanceclass.
Rating: [rating=9] 9/10 stars [?]
Available on Amazon Kindle and Smashwords.