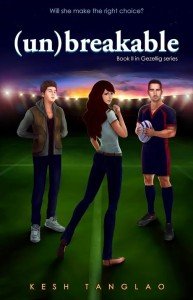 Lorin Perez's life is finally back on track after almost losing it six years ago. She knows meeting and dating sizzling hot professional rugby player Spence Clarke is a huge part of her healing process. But with her father starting a new family, she decides to follow her best friend Caitlin to United Kingdom—Spence's home country—and start a new life.

However, moving to UK brings certain complications in the form of Gezellig band member Nigel Whitmore, a.k.a. the one who didn't follow through three years ago. And even though Lorin is very clear about her no commitment rule, Nigel ignores this and pursues Lorin like never before.

Caught between the man who made her feel safe and the one who makes her feel alive, will she finally be able to set her heart free and make the right choice?
The Playlist
The Excerpt
"GET A ROOM!"

Like a kid caught with his hand in the cookie jar, I drew back from Spence, who tasted of vodka and something vaguely sweet. Carl passed us with his girlfriend in tow, a naughty smile on his face as he told me and Spence off.

Spence grinned as his grip around me loosened, but he didn't fully let me go, his arm still wrapped possessively around my waist. We were in the middle of the dance floor of an elite bar in Taguig, engaged in a make-out-session-slash-dirty-dance fueled by booze (on his part) and hormones (both of us guilty of this one).

For a few seconds, Spence and I just stood there, weirdly swaying slowly to the house music. It was moments like this with Spence—the quiet, knowing feeling that you're somewhere safe—that were my favorite.

But suddenly, the music was too loud and the crowd too hyper. It felt like the air was too thin but at the same time too heavy, and the dance floor too foggy.

"Hey!" I yelled into Spence's ear. "I'm gonna go to the bathroom!"

"What?" he yelled back.

"BATHROOM!" I repeated. Everyone was oblivious to my shouts at him, too busy groping at their partners.

Spence nodded, finally releasing me, and I weaved in and out of the crowd. The DJ was starting a new set and the crowd pushed towards the center of the dance floor.

I breathed a sigh of relief when I got to the bathroom, which was thankfully empty because of the DJ's new set. With the number of people in the bar tonight, it was surprisingly clean, save for some balled-up tissue on the floor.

I stared at my reflection in the mirror, placing my hands on the cool steel sink, thankful that my waterproof makeup kept their promise at being waterproof. I opened my purse to get my lipstick, and was getting ready for a retouch, when there was a series of knocks on the door. I ignored the calls, until I heard my name.

"Lorin!"

I unlocked the door and peered out. Spence pushed his way into the bathroom, then locked the door behind him.

I gaped at him. "What are you doing?" I asked, but he didn't answer. Instead, he pressed me against the sink, his hands slid to my waist, and he lifted me on top of the sink. For a split-second I worried that it wouldn't hold my weight. His lips immediately found mine, delving, exploring. I hooked my legs around his waist, feeling him against me. One of his hands was on my hip, the other skimming my back that was exposed from my red mini-dress.

"You…look…so…damn…hot," he growled.

And it was getting so damn hot, too.

I responded to his kisses, my hands sliding under his shirt, feeling his taut chest muscles, the pack of abs that I teased him about, and my heart started racing. Even though I couldn't see them, my fingers grazed his tattoo of a string of stars at the V-line of his hips, making him hiss.

I trailed my fingers upwards. His heart was beating just as rapidly against my palm that was over his chest. Our breathing became heavier as our kisses went deeper and deeper, his tongue dancing with mine, our hands exploring each other's bodies. His lips left mine, traveling down my neck, tasting, and licking, and I leaned my head back to give him better access. He pressed against me and I pressed against him, wanting the space to disappear, wanting him, all of him—and also nothing of him, because it felt too much, too overwhelming, too precious.

I jolted out of it when I felt his hand slide under my dress, grazing the inside of my thigh. I pushed him away gently. Irritation crossed Spence's face, my interruption unwelcome, but I gave him a sly smile.

"As much as I want you right now," I began in between labored breaths, "I don't think this is the kind of room Carl was telling us to get."

I slid down the sink, settling my stilettos back on the floor. He stepped back, taking deep breaths, his eyes still filled with unmistakable desire. I could see by the way his brows were furrowed that his brain was trying to fight through the booze-induced haze to find a solution for this.

"We should get a real room then," he resolved.

I smiled. "That's the idea."

Spence grabbed my hand, a conspiratorial grin on his face before he nipped at the tip of my ear. We disappeared into the back exit, ignoring the teasing of Jamie who saw us slip out.
Goodreads link: https://www.goodreads.com/book/show/22694739-un-breakable
Purchase links: Amazon | Smashwords
About Kesh Tanglao
Kesh Tanglao is a full-time market researcher. When she's not crunching numbers, she spends most of her free time watching TV shows, listening to music, and reading. Also a self-proclaimed fangirl, she likes cheering for her favorite sports teams and supporting her favorite artists.
Blog: http://sparksfire.wordpress.com/
Twitter: http://twitter.com/sparksfire_
Facebook: https://www.facebook.com/KeshTanglao
Wattpad: http://www.wattpad.com/user/sparksfire
The Giveaway
Kesh is giving away a dog tag necklace with the winner's name on it + a choice between jersey of the Philippine Volcanoes or any DVD mentioned in the book (Ted, The Hangover, The Hangover II, The Anchorman, The Grown-Ups, 21 Jump Street, Serendipity, The Notebook, One Day, When Harry Met Sally, We Bought a Zoo) + ebook of The Real Score to Philippine residents only.
Five sets of THE REAL SCORE + (UN)BREAKABLE ebooks will be given away to international readers.