Book meme: Manga Mondays c/o
Alison Can Read
.
I thought I'd start up and fill in spaces between reading times by taking part of book memes. Manga Mondays seem like a nice fit for me, so I thought I'd take that. I'll be participating every two weeks.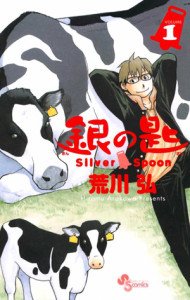 Silver Spoon (銀の匙 Gin no Saji) is a Japanese manga series written and illustrated by Hiromu Arakawa, set in the fictional Oezo Agricultural High School in Hokkaido. It depicts the daily life of Yugo Hachiken, a student from Sapporo who, unlike his new classmates, has no intention of following an agricultural career after graduating. Instead, he decided to study there under the misguided notion that he could easily be the top student in the class.

Influenced by Arakawa's own life experience as she was raised in a dairy farm in Hokkaido, the manga was launched on the 19th issue of Shogakukan's Weekly Shonen Sunday magazine on April 6, featured on the cover. It became one of the magazine's main features not long after.
I love Hiromu Arakawa, and discovered her through her work, Fullmetal Alchemist. It's an epic seinen manga, full of action and feels ((Forgive my Tumblr speak)). It was one of the few manga series I followed, and even watched the two anime series ((Yes. I saw Nina, Alexander, and Maes Hughes die more than once.)). So you can be sure I was delighted to hear that she has a new series. And even if it's not as action-packed as Fullmetal Alchemist, I trust Arakawa-sensei to give me all the thought-provoking questions, roar-out-laughter humour, and bombardment of feels.
Before she became the famous mangaka she is today, she was a farmer first having born and raised in a dairy farm. And she draws heavily from her experience to write Gin no Saji (Silver Spoon). This is about Yugo Hachiken, a city boy who entered an agricultural high school to get away from home. He learns that education is not just learned from books, but also through taking care of crops and animals, and meeting all kinds of people.
This is a slice of life manga; You won't find anyone with automails or anyone who can transmutate vegetables. But without all those bells and whistles, this is still a joy to read. With Arakawa-sensei's art style and brand of humour, you just can't go wrong with it. It's also a plus that we are being head-faked to learn more about animals and agriculture. It's like we're studying the same lessons Hachiken and his classmates are taking. It's also a coming-of-age story, and I want to find out how Hachiken will see through to finding his purpose. It's a tale as old as time, but Arakawa-sensei does it so well that you can't help but root for not only Hachiken, but also his classmates and the animals they take care of.
I'll be sure to follow the series through the end. (And following the anime too)
Rating: [rating=9] 9/10 stars [?]