Welcome to my stop of The Kitchen When it Sizzles blog tour!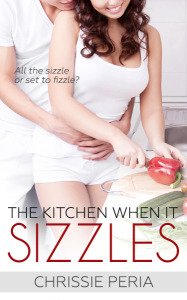 Olivia Nadal is an almost perfect girl with an almost perfect life. She has stunning good looks, an exciting job that pays well, men lining up to date her, and a homey little condo she calls her own. The only thing keeping her from perfection is her utter inability to cook.

Enter Nate Olivarez, a hotshot chef who's filling in for Olivia's cooking instructor. Sparks fly when they meet, but a fling with the visiting hottie is the last thing Olivia needs. But as things keep heating up in the kitchen, she can't help but wonder. Can things work out between her and Nate? Or is the sizzle all set to fizzle?
The Excerpt
Olivia pounded on his chest, but it was a futile effort. He just grabbed her wrists and went on kissing her. She felt her knees weaken as the kiss intensified, so much that she found herself clinging to him just to stay upright.

"What do you want from me, Olivia?" he asked, voice deep with wanting, when they surfaced for air. He stared at her so earnestly, his eyes pleading for her to utter the words he wanted to hear.

It was a desperate look, one that said he'll finally walk away if that was what she wanted.

Olivia didn't know what to do. She was attracted to Nate, she knew that at least. But what did she want? Her hands slid from his shoulders to his nape. She searched his face for answers. Her brain told her to walk away, but all she could hear was her heart thumping his name in an odd rhythm. Nate. Nate. Nate.

This time, it was she who was reaching up to kiss him. Tentatively, as if she was hoping to find the answer between his lips. Her fingers made small movements on his nape, the tips flicking through the stubby hair by the top of his spine.

"Liv, we can't go on like this," he protested, desperately not wanting to get caught up in uncertainty. "I'm through with this pointless game. What do you want from me?"

Olivia stared at Nate, asking herself the same question. With Nate's arms wrapped around her, everything was so real. But reality was fickle, and this same Nate could pack his bags and fly off the next day, a wave going where the current takes him. Still, Olivia knew what she wanted.

"You," Olivia replied. She was done fighting her feelings. Perhaps she would regret it all later. But for now, Nate was hers. Possibly just for the moment, but hers nevertheless. "I want you." She went crashing into him, the full weight of her emotions finally making itself known.
Goodreads link
Purchase links: Amazon | B&N | Smashwords | The Book Depository | iTunes
About Chrissie Peria
The Giveaway
1 PH Only Swag Bag
Paperback + Ebook: The Kitchen When It Sizzles
500 PHP GC: Ippudo Ramen (A steamy bowl of something)
2 Tickets: Best Food Forward Fair (Time for a foodie date)
Re-ment Cookware Miniatures (A cute "kitchen" you can bring along with you)
5 INT E-book Copies
The Kitchen When It Sizzles (with personalized dedication for each winner in their copy)