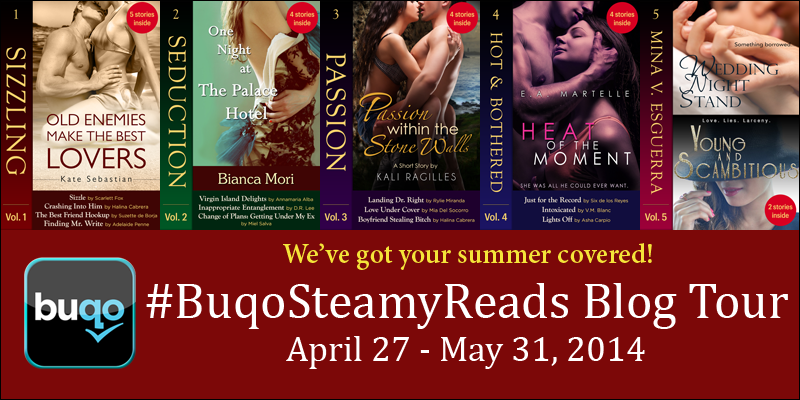 Reading Advisory: Due to its content and themes, the story is only recommended for readers 18 years old and above.
Just for the record, the heat can get to even the most calculated of minds.

Let it be stated that Rhys loves Ryan forever and ever. But certain needs are not being met, leaving her frustrated and asking for too much than the conservative and almost-rock star, Ryan, is willing to give. Uncooperative (or cooperative, depending on your point of view) weather provides her an opportunity to ask not what she can do for her friends, but what a friend can do for her.

Isaiah likes to say that the best thing about Rhys is that he can stand in her breathing space and feel nothing. Something of a breather when dancing with Lia short circuits his entire operating system. But all his beliefs are challenged when Rhys chances upon him in a steamy practice room in the middle of a heat wave.
This is not your ordinary steamy read. It sets the tone of dark skies, taking shelter from the rain, and finding oneself or another person in the midst of loneliness and irrational fears. This is not a story of loyalty between lovers but between friends. It shows that love is not all chocolates and roses and poems. Temptation can be in the form of ice cream and dances.
This isn't for everyone, especially due to its theme. But still it's beautifully written, and all the leads' feelings are evoked. Other than Rhys and Isaiah, I also want to know more about their mutual friend Nico. They're all very interesting characters.
All in all, a well-crafted read, but don't expect it to be light like the others I've reviewed. I may not agree with how things went, but I understand why they happened the way they did. I suggest going in without any expectations, and just take it all in as you would when watching the sun set.
Disclosure: I received a copy of this title for an honest review.
Rating: [rating=7] 7/10 stars [?]
You can get the story via Buqo, which you can download via the following links:
Buqo Links:
Download the Android app: http://bit.ly/buqodroid
Download the iOS app: http://bit.ly/buqoapple