More stories this week from #buqoYA, this time tackling complications young adults face when it comes to young love. Also, a powerbank's being given away. 😉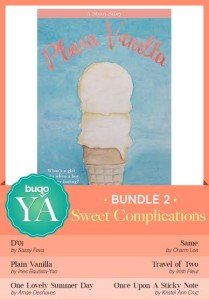 Would you do a set of dares to prove someone wrong? Would you risk your friendship so you can find love? Would you admit your real feelings? There are a lot of complications when it comes to finding love. Get the feels when you read these sweet stories.
The Stories
D'01 by Sassy Fova
Kat Arcanghel has just turned 18 and she feels that it is the right time to fall in love. She finds herself falling for Alech Crisologo, but she has always thought of herself as adeviant/rebel and there's nothing more mainstream than crushing on the guy that everybody loves, thus she fights her feelings and tries to search for the right one—just not him.

Will Kat continue rebelling against her own heart, or will she let her heart conquer the battle and let it lead the way? She'll find the answer when she meets D'01.
One Lovely Summer Day by Amae Dechavez
Kwento ng Pag-Ibig, Pangarap, at Pag-asa… Sa Pila, Laguna, bakasyon at abala ang lahat sa bahay nila Tiya Isidra—"general cleaning" ika ng matanda. Bukod pa roon ay darating si Maylie, ang paboritong pamangkin niyang galing ng Maynila. Gaya ng inaasahan, naroon si Ethan para tumulong sa paglilinis at paghahanda. Bagamat mukhang tahimik ang dalaga, unang sulyap pa lang ay agad na nagandahan at nabaitan si Ethan sa kaniya. Naging matalik na magkaibigan ang dalawa. Sa isang di inaasahang pangyayari at proyektong kailangang lutasin nilang dalawa, lalong napalapit si Ethan at Maylie sa isa-isa. Gayun pa man, alam ni Ethan na isang araw ay aalis din si Maylie at maiiwan siya. Sasabihin ba niya kay Maylie ang nararamdaman niya?
Once Upon A Sticky Note by Kristel Ann Cruz
Nate and Tanya have been "talk all day, every day" best friends for years but on the eve of Nate's birthday, Tanya realized she has started developing more-than-platonic feelings him. They're going off to college soon so confessing anything that might make things complicated between them doesn't sound like a good plan, especially now that Campus Sweetie Armi has entered the picture. What would Tanya do? Could she? Should she? Grab a sticky note and place your bets.
Plain Vanilla by Ines Bautista-Yao
Despite her quirky name and equally quirky family, 16-year-old Tempest Juan knows she's ordinary. After reading a comment on Facebook which likened her to vanilla ice cream, Tempest decides she has to do something about it or be forever branded as plain, lukewarm, and well, vanilla. It doesn't help that the comment was made by Paco Lorenzo, her cousin's cute friend (no longer cute in her book!). When she happens upon a book of dares, she decides to attempt each one, no matter how hard. This is her personality at stake, after all. But somehow, Paco, the cause of all this, finds a way to be at every dare Tempest attempts, confusing her and forcing her to question what's really going on inside her heart.
Same by Charm Lee
March 2.

Of all places, Atasha never thought that she would end up in a hospital on this specific day. Rush was looking forward to just enjoying the day.

But with the white walls and medical noises around them, two young and very different souls cross paths. Rush and Atasha discover that even if they are as alike as night and day, they aren't as different as they thought after all.
Travel of Two by Irish Fleur
Biyahe mag-isa? Check! Isa na namang item sa bucket list ni Isobel ang matutupad. Sino bang hindi magiging masaya kapag nagawa mo na ang gusto mo? Pero hindi lang pala si Isobel ang nagso-solo travel–si Arty rin. Si Arty na suplado, na-friendzone, makulit, at nakilala ni Isobel sa paglalakbay niya. At kahit ganito si Arty, mas naging exciting ang pagbiyahe ni Isobel.

So, magka-boyfriend… mache-check din nga ba ito ni Isobel sa sa bucket list niya?
Purchase link: Buqo
About the Authors
Sassy Fova
Sassy Fova is just your average girl from Ilocos Norte, PH. Sassy is a hopeless romantic who's got her head in the clouds, and comes back down just long enough to write about it. Being an Ilocana, she is thrifty, but she spares none when it comes to sharing all the love.
Amae Dechavez
Amae Dechavez (amaeauthor) is a blogger, fiction author, YA novelist, and children's book writer. She was born in Quezon City, Manila in 1983 and has a Penn Foster diploma in Child Daycare Management. She has been authoring for several digital distributor hubs in (the Philippines) and has been writing for many free online/ social media platforms. When not hugging or arguing with her dog, you can find her at Writerscafe.org.
Kristel Ann Cruz
It boggles the mind how someone so shy and awkward found herself in Public Relations, but somehow Krissy makes it work. If she were a fictional character, she'd be a female Ted Mosby. Whether it be prose, poetry, a watercolor painting, or a craft project, she is happiest when she makes. Talk about books, movies, and lipsticks with her on www.krissyfied.com.
Ines Bautista-Yao
Ines Bautista-Yao is the author of One Crazy Summer, What's in your Heart, and Only a Kiss. She has also written two short stories, "Flashbacks and Echoes," which is part of a compilation called All This Wanting and "A Captured Dream," one of the four short stories in Sola Musica: Love Notes from a Festival.
She is the former editor-in-chief of Candy and K-Zone magazines and a former high school and college English and Literature teacher. She is also a wife and mom and blogs about the many challenges and joys of motherhood at theeverydayprojectblog.com. She has recently launched The Author Project, a section in her current blog devoted to the stories in her head: http://theeverydayprojectblog.com/inesbyao-author-project/
Twitter | Facebook | Instagram
Charm Lee
aspiring hero wanting to save the world. tv show addict. all around shy girl.
Irish Fleur
Irish Fleur is a Licensed Pharmacist, cat lover and travel junkie who loves writing since she was seven years old.
The Giveaway
The Excerpts
Please proceed to the next page for the excerpts.